De Europese Beweging Nederland (EBN) is een netwerkorganisatie van burgers, maatschappelijke organisaties en bedrijven. De EBN functioneert als een Europa platform. Wat ons bindt is een betrokkenheid bij het Europese integratieproces en de overtuiging dat we de toekomst van Europa zelf mee gestalte kunnen geven.
---
Agenda
High time for Europe to step up in defense of liberal values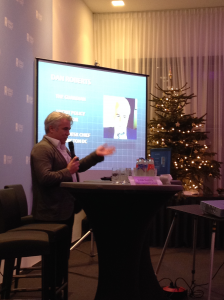 'Europe has to step up urgently and engage in the defense of liberal values in a world which is scared, confused and increasingly polarized, and most likely abandoned by the US with more isolationist policies on the horizon after Trump's election.' This was one of the stark messages which The Guardian policy editor for Brexit and former Washington Bureau chief Dan Roberts shared with his audience in the EBN Urgency debate in Nieuwspoort on Thursday December 15.

The very animated debate set the tone for the crucial engagement with the great global transitions, which the EBN wishes to stimulate in the coming year. In the confusion after Brexit and the Italian referendum and in the leadup to crucial elections in several European member-states in 2017, the call for a vital rethink of Europe is growing louder by the day. Around the globe, we hear many voices urging a much more fundamental revisiting of the deeper causes of all the social unrest, uncertainty and malaise that also affect our continent. There are a wide variety of appeals to work much more energetically against isolationism and exclusion politics. In fact, the 'Trump moment' and 'American retreat from the world' according to some may also constitute a window of opportunity for the rest of the world to redraw its own positions and international relations, more independently of the American hegemon.
Home