In the lead up to the European Elections 2019, The European Movement International is the chief initiator of a big Democracy Fest, called Democracy Alive. Preparations are in full swing. We spoke with Mads Hvid, Head Projects and Campaigns, at the EMI office in Brussels, who is now busy around the clock with what already promises to become one of the Must-Go events of 2019.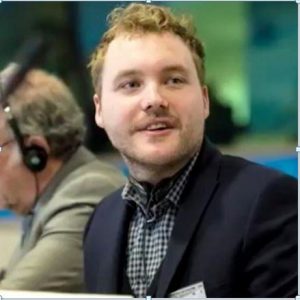 Democracy Alive festival, that sounds quite exciting. How did the idea arise?
The idea of initiating a European Democracy Festival has been on our minds for a while. But when in February 2018, we held a democracy workshop for 100 activists and experts from all over Europe, and the idea also emerged among their main ideas for how to engage with Europeans, we decided that we had to move on it.
What are the main drivers of/motivators for this festival?

We want to create a space for Europeans to meet with both their elected representatives and with the organisations which everyday are working on influencing the direction of Europe to the benefit of the citizens. We were looking for a place where a fisherman from Texel can have a beer with an MEP from Romania and somebody working for an Italian environmental organization. We didn't see such spaces anywhere, so we decided to create it.
Why Texel?
We were originally inspired by the Scandinavian tradition of Democracy Festivals. For many reasons these fests often take place on islands. It helps create a unique atmosphere being somewhere out of the ordinary.
We looked at several beautiful places around Europe, places with distinct and small communities, but relatively close to a major airport so it would be accessible for our international participants. Texel quickly became a place we considered seriously. A nd when we reached out to the potential host locations the local people of Texel were incredibly welcoming and constructive. We established a great relationship with the local municipality and tourist office, and they have been incredible partners all through the planning stages.
Since starting our frequent visits to Texel, we have continued to meet the many passionate people on the island, and this has only confirmed that our decision to base the festival on the island was the right one. We are also working as much as we can with local suppliers on everything: from the organizer pavilions and logistics to food trucks, accommodations and decorations. Texel has a vibrant local business scene, and it's a delight to get to work with people who are so passionate about their home.
There is quite a bit of democratic 'unrest' in Europe these days -from yellow vests to new populist movements – how does the festival relate to all that?
We believe that calm and constructive dialogue is the essence of democracy. Unfortunatey, this is often lacking at the European level. DEMOCRACY ALIVE is our attempt to inspire more of such interactions by showing that it can be done; and that the fight for democratic progress can happen over a drink at a festival and not only in a sterile meeting room or on the streets.
What do you hope this festival will contribute to the European elections?
We hope it will be a great starting-shot for the European election campaign. Together with civil society and party activists from across Europe we will be making the final stretch before the elections and boosting motivation to get out the vote.
When would you call the festival a success?

We would be very happy if we have 3 days in April in which we see great conversations taking place and new relationships being forged. We hope everyone will leave with a feeling of hope and excitement about the upcoming elections, and a whole bunch of ideas of how to get fellow citizens feel the same.
If people wish to join, what are their options?
Several organisations have already signed up, from youth and women's organisations to trade unions, businesses and NGOs – but we are still looking for more. So if your organisation wants to take part, please reach out to us by contacting us either by email or by going here:
https://www.democracyalive.eu/become_an_organiser
If you are looking for how to take part as an individual or if you wish to become a volunteer, www.DEMOCRACYALIVE.eu is the place to go.
See you on Texel in April!!!